Go to Dear Zelda

Ms. Mitchell replied "ah, excuse me, I think I need to spend a few minutes in the restroom."

CN. Los Angeles, CA. The press first reported that a woman had been stalking and harassing Adrian Paul, but anonymous sources leaked the first hints of unsettling information; the woman stalking Adrian Paul had some unusual affiliation with an organization that was a top priority of the CIA's and the FBI's hit list: 'The Satanic Dawn' organization.

Our own CN reporter, Terri Mitchell, has been following this story very closely, being a Highlander fan herself, she has heard that the only statement Adrian had to make is " I am pleased that there will be a resolution to this matter; finally."

Ms. Mitchell, in preliminary investigation, was able to uncover certain facts pertaining to the The Satanic Dawn organization. "The organization traces it roots to the mythical she-demon, Lilith, a temptress found in the Old Testament," stated Ms. Mitchell. "According to CIA records, many of its' members, which are all females, were burned at the stake during the European witch trials. Adrian Paul's stalker says she is immortal and that Adrian had been chosen by the 'counsel' to be her bondage slave."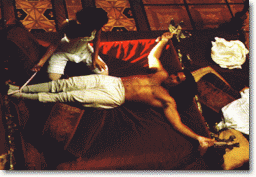 Ms. Mitchell spoke to the unnamed stalker for a few short minutes as she was being arrested by LAPD for questioning. Ms. Mitchell asked her why she would choose this man to unleash her strange fantasy. The stalker replied, "Adrian is the sexiest man that has ever stepped foot on this planet. If you had his phone number, wouldn't you call him? If your breasts dripped with the juice of immortality, would you not want them sucked by the ruby lips of Adrian? Would you not enjoy the aspect of binding him and riding him like a wild stallion through the long, dark nights of all consuming lust?" Ms. Mitchell replied "ah, excuse me, I think I need to spend a few minutes in the restroom."

A source close to the investigation told our reporter that the stalker was allegedly packing a three foot long rope of red licorice, a can of whipped cream, a black leather mask, leather binding straps and a large supply of sodium penathol. She refused to tell officers what her plans were, but I'm sure they had a good idea.

Ms. Mitchell empathizes with the unnamed woman in some of her illusions. "Hey, if I had his phone number, I'd probably call him too. There is a fine line between what she was doing and what I might do." The man needs his beauty sleep, leave him alone. Admiring his incredible physique and his vulnerable boyish charm, remember ...he does wield a really big sword, and I might add he does a great job. He never leaves you wanting more, you're done!!!!!!

Ms. Mitchell's final comment on this story, "Damn, I forgot to ask her for his phone number."